An Introduction to Weapons Training at WCMA
Weapons training is an important part of the curriculum at WCMA. It is vital that any traditional style practices a wide range of traditional weapons to keep the art form alive.
Included in the WCMA curriculum are various types of staff: (Shaolin staff, water carrier pole & metal staff), Chinese broadsword & Twin butterfly knives. This covers most of the basic weapons groups: long, medium, short & double.
Additionally, students have the option to learn the Iron fan (Bai Her Shanzi) & the Chinese straight sword (Bai Her Jian). These are very skilled weapons, very difficult to master.
Once a student has been practicing the basic weapons regularly for a while & has reached a good level of skill, they have the option to learn a specialized weapon, based on their temperament & body type.
Below is a study of some of my senior students & the specialised weapons they are practicing:
JIAN (CHINESE STRAIGHT SWORD) 
The Jian is one of my favourite weapons. It is an elegant, deadly, 3 foot long razor blade. This creates the perfect fusion of martial and art. Along with the fan, the straight sword is one of the weapons that most exemplifies White Crane. It requires such perfection of skill to use and takes a lifetime to master. As the old Chinese saying goes, regarding practice, 100 days-empty hand; 1,000 days-broadsword; 10,000 days-straight sword. The Jian is taught in our weapons classes, and is an excellent progression from learning the Suang Yang form, our White Crane soft style form. Studying with us gives you the opportunity to try out all these classical weapons, keeping this part of the martial tradition alive.
Shaf, Instructor WCMA, demonstrating the Big Dipper from Bai Her Jian.
WATER CARRIER POLE (BIAN DAN FA)
In Southern China it is a common sight seeing ordinary, everyday people going off to market to sell their wares, these split bamboo poles over their shoulders, carrying their produce in big wicker baskets balanced on each end. I wonder how many know that they are also deadly traditional weapons, integral to Chinese Kung Fu! These weapons are difficult to obtain in the west, so WCMA students make their own! Simply split a thick piece of bamboo length ways, trim and shape the ends and add a wicked hook to each end and the job is done!
Mr Russell Suthern and Joshua Haigh are demonstrating their own water carriers they made themselves.
SINLGE FAN AND DOUBLE FAN
THE WHITE CRANE FAN FORM
The Chinese have used the Fan as a weapon for many centuries. The White Crane Fan Form uses the Chinese iron fighting fan, rather than flimsy paper or bamboo fans. This makes it much harder on the wrist and hand. The pattern itself is very long and complex, with many opening and closing moves. The Fan can be used as a weapon in both its open and closed state and, like the Cane, has the advantage that you are unlikely to be arrested for carrying one.
KIRSTY SLOMAN DEMONSTRATING DOUBLE FAN
TRADITIONAL ARCHERY
Since it was invented 5,000 years ago, the bow has been a mainstay of warfare and the martial arts.Chinese, Japanese, Mongolian and Korean warfare relied on this weapon which could strike rapid death from afar. In Europe the longbow was a significant factor in medieval warfare.The bow was considered a gentleman's weapon in China, ranked up with the straight sword. Nobleman and lords held regular competitions with the winners receiving more money and lands and the losers having to relinquish theirs.Chinese martial tradition abounds with stories of archers of almost mystical or supernatural skill. So why do so few martial arts clubs teach archery today? The argument that it was rendered obsolete by the gun is invalid. Swords, spears, all traditional weapons are now considered obsolete and yet they are still practiced. I cannot answer the question, but I do feel it is a shame that more clubs do not include traditional archery in their curriculum. It is so important to keep these ancient skills alive. Even the terracotta army has several divisions of archers and crossbowmen.Archery is bound up with and governed by the principles of Taoism, Zen and Confucius. In fact archery was one of Confucius' favourite pastimes!
Practice of archery stills the mind, improves concentration, focus and eyesight.
In addition to this, it's great fun!
At White Crane Martial Arts we teach much more than simple target archery. We teach traditional warfare archery including:
Single target archery
Multiple target archery
Moving target archery
Hitting a standing target while moving.
Field archery
Formation archery (ranks of archers taking turns to fire.)
Clout archery (firing up into the air trying to hit targets lying on the ground.)
And many other variations.
We are proud to offer traditional archery as part of our curriculum and proud that we are doing our bit to keep this noble martial tradition alive.
(Watch this space- more archery articles coming soon!)
THE CHIEF INSTUCTOR RUSSELL SUTHERN WITH OLD ENGLISH LONGBOW

THE CHIEF INSTUCTOR RUSSELL SUTHERN & STUDENTS AT WEAPONS CAMP 2013 PRACTICING THE WEI-JIA BROADSWORD
The distinctive curved design of the Katana is actually originally Chinese in design. This sword was sometimes known as the Wei-Jia broadsword, or the Corn Leaf sword.
This style of sword can be used with one or both hands & combines many blocking, slashing & thrusting movements.
THE CANE
This is one weapon that you can carry around with you without getting arrested! The cane is very versatile for blocking, slashing & striking, but its main characteristic is the curved end which can be looped around any limb, arm, leg or neck, to off-balance an opponent and pull them in.
DRAGON HEADED CANE
Antique Dragon-Headed Cane purchased in China.
JOSHUA HAIGH & KIRSTY SLOMAN PERFORMING THE DAMO CANE FORM.
MR RUSSELL SUTHERN & KIRSTY SLOMAN DEMONSTRATING THE DA DAO
This literally means "Big knife" as is another hand & a half slashing weapon. The Da Dao has fallen out of mainstream use within Chinese MA practitioners, which is a shame as it had such a prominent part to play in Chinese history. It was one of the main weapons used against the Japanese invaders in the China-Japan war in the 30's.
This weapon can generate huge amounts of slashing power due to its weight being forward in the blade.
ROB MARTIN DEMONSTRATING THE HERO LI KWEI'S DOUBLE AXES- (LI KWEI SHUANG FU)

Made famous by the legendary hero, Li Kwei, these axes are very difficult to master due to their great weight. Practitioners of these weapons develop great strength & stamina.
RARE DOUBLE AXES ACQUIRED BY MR.SUTHERN IN CHINA

JOSHUA HAIGH PERFORMING DOUBLE BROADSWORD

After perfecting single sword, the practitioner may progress onto double swords, which is obviously more difficult as both hands are working together, so it is harder to keep control. Also, many practitioners find it awkward to hold a sword in their left hand. Broadswords focus more on slashing movements, than the straight sword which is more of fencing, thrusting weapon.
Josh's' swords are unusual as that they are shaped like Ming/Ching dynasty broadsword which is narrower along its length, rather than the modern style Chinese broadswords with has a more flared shape to its blade.
THE TEE-PIT 
This is another weapon associated with Japanese martial arts, but actually
has its origin in China. In Japanese it is known as the Sai, in Chinese,
the Tee-Pit. This is another Southern style double-handed weapon, in many
ways similar to the double daggers. It may have its origins in the common
pitchfork. The main characteristic of the Tee-Pit is that, like the double
daggers, it can be spun in the hand to rest along the forearm to block
incoming blows, plus one could use the pommel to strike. The three-pronged
arrangement can be used to trap an opponents weapon. Often one would block
with one hand, while striking with the other.
DRAGON HOOK SWORD
The Dragon Hook Swords (also known as the Tiger Hook Swords) are one of the deadliest weapons available – mainly to the practitioner!
Every inch of the weapon bar the grip is razor sharp – great care must be taken performing the various twirling, slashing, hooking + thrusting movement that the practitioner does not cut themselves!
The weapon can be used to cut, stab, block and hook (either the opponent's body or their weapons). The two hooks can also be fitted together and the two swords whirled above the head – great for clearing a space in a crowd!
THE KWAN DAO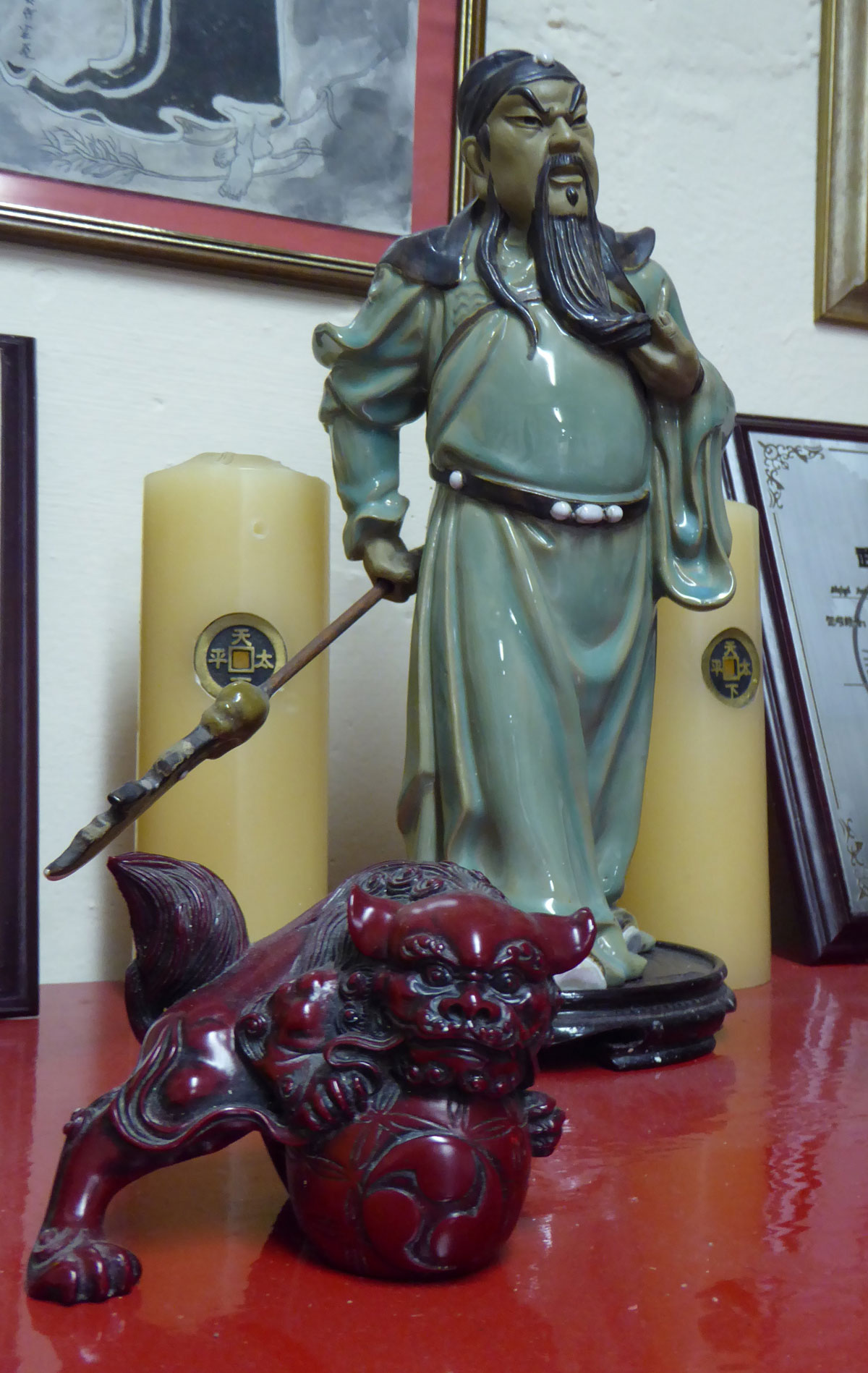 Literally, the weapon of General Kwan, the god of war, this monster is sometimes referred to as the king of weapons. This weapon is very heavy & is very difficult to master.
Unlike some clubs which use flappy "tin foil" blades on their weapons, WCMA uses combat steel for all its weapons.
JAMIE BERZOLA DEMONSTRATING THE KWAN DAO
The Kwan Dao is said to be the weapon of general Kwan (see above), the Chinese God of War and one of the three central characters in the classic Chinese novel "The Three Kingdoms".
Kwan was said to be 9 foot tall and his Kwando was supposedly 300lbs in weight!
We can't boast those figures, but Jamie Berzola (Brighton WCMA), posing in the photos above is 6 foot 2 and about 13 stone. He is certainly the right build to weild "The King of Weapons"!
Most clubs use floppy tin foil Kwandos weighing 5lbs, not so with White Crane. Jamie is using a combat steel beast of a weapon weighing in at over 20lbs! The effort needed to swing this monster around through a full pattern is immense and is a real weight training exercise.
White Crane specialises in real traditional training with real traditional weapons.
MR RUSSELL SUTHERN WIELDING A PAIR OF AUTHENTIC DOUBLE DAGGERS (SHUANG DAO) FORGED IN THE YONG CHUN PROVINCE OF SOUTHERN CHINA
Double daggers are a key weapon in Southern style martial arts, especially white Crane style. They are not to be confused with the twin butterfly knives (Shaolin Hu Die Shuang Dao), sometimes known as the Bart Jarm Dao (eight slash knife). Butterfly knives tend to be shorter & fatter & mainly consist of slashing movements. Double daggers tend to be slightly longer & thinner & utilize more stabbing movements.
DEER ANTLER BLADES (AKA DEER HORN KNIVES)

The Deer antler blades belong to the double short weapon category, which includes double daggers, butterfly knives, Tee Pit (Sai), Wind & Fire wheels & many others.
They have multiple cutting edges & employ rapid circular movements, perfect for fighting multiple opponents.
The modern shape for the Deer antler blades is two interlocking "C"s (See left hand side of picture in gallery). Antique blades of original design (see right hand side of picture in gallery) are much more intricate & ornate. These blades were purchased in China & are almost impossible to find in the West.
TWO HANDED STRAIGHT SWORD (SHUANG SHOU JIAN)
Much larger & heavier than its single handed relation, this rare weapon is much more difficult to use. Very few clubs teach this weapon any more.
In today's Wushu dominated arena it is common to see flappy "tin foil" blades being waved around. Not so with White Crane! Mr Russell Suthern is using a traditional combat steel sword purchased in China & capable of punching a hole through a car door!
The movements of the Shuang Shou Jian are large, effective & direct. The pattern itself is long & complex, providing a fantastic aerobic & strength building exercise for the practitioner.
CALEB COOPER DEMONSTRATING THE THREE SECTIONAL STAFF (SAN JIE GUN).
Another weapon that is very difficult to master, the three section staff can be just as lethal to the user as his opponent!
It takes great skill to perform all the various twisting, spinning & thrusting movements safely & accurately.
SHAFAGH AMIRAFTABI DEMONSTRATING THE MONK SPADE
This weapon is said to have originated in the Shaolin Temple where it was reputedly used to bury the dead! The crescent shape would be used to break up the hard earth and the spade end to dig it away.
This tool was soon discovered to have fearsome fighting potential. The crescent end could trap weapons or limbs as well as stab. The spade end could be used to cut, stab and slash the opponent.
The practitioner makes use of both ends of the weapon by employing many sweeping, twirling movements, great for keeping large groups of enemies at bay.
JOSHUA HAIGH DEMONSTRATING SWORD AND SHIELD
The sword and shield is yet another rare weapon combination that is not found in many styles, but is part of the White Crane system.
The sword and shield is a military based pattern and the practitioner is attempting to disable as many opponents as possible by slashing at their legs.
This means the pattern contains many crouching and rolling movements and is very aerobic as well as being very strengthening for the legs!
Chief Instructor Mr Russell Suthern is very proud to be able to preserve this rare piece of Chinese History and make it available to his students.
THE HORSE CUTTING KNIFE (TA MA DAO)
This unique weapon is longer and heavier than the Da Dao, but shorter than the Kwandao. As the name suggests, this is a weapon designed to slash at cavalry horses (usually the legs) and then to dispatch the rider once they have fallen from their mount. The heavy blade and long handle generates tremendous slashing power when swung, combined with enough length to keep out of the horses way to prevent getting trampled!
THE HORSE TAIL WHISK

This esoteric Taoist weapon is said to have mystical powers. Many ancient Taoist sages carries these whisks as they traveled the land and their use passed on into myth and legend. The ends can be used to stab an opponent, and the hairs can distract or slash across the eyes of your enemy. The impact of these hairs is surprisingly powerful in trained hands! It is said that the performance of the horse tail whisk should be like a heavenly steed soaring across the skies. The movement should be powerful and brisk, unconstrained and elegant.
THE CHIEF INSTUCTOR RUSSELL SUTHERN DEMONSTRATING THE TRIDENT

The Trident is sometimes known as the Tiger Fork because it was used "en masse" to capture and kill tigers more safely from a distance. More commonly, it was used as a military weapon to unseat cavalry riders (especially useful if you wanted to capture their horses afterwards.) The three prong arrangement was also useful for trapping an opponent's weapon (usually long weapons such as spear or halberd) thus neutralizing them so the owner could be killed. WCMA practitioners prefer to use heavy, combat style tridents to improve their strength + stamina.
JASON LEE DEMONSTRATING THE SPEAR
The spear was originally a battlefield weapon designed to keep multiple opponents at bay & dispatch them from a distance. The main characteristics of the spear are accuracy, speed & flexibility. It is said the spear should resemble a dragon shooting out from the water.
TALIN SELLIAN DEMONSTRATING THE DRAGON GAUNTLETS

The Dragon Gauntlets, sometimes called Dragon Talons, are usually only seen in the Dragon style. However, Chief Instructor Russell Sutherns incredibly wide knowledge of ancient Chinese weaponry means we have this pattern within our curriculum.
The talons are used to rend & tear, the metal palm plate is used for blocking & striking & the wicked spikes on the back of the gauntlet make recieving a backfist from the wearer a whole new experience!
Dragon Gauntlets are an extremely rare Kung Fu weapon, even in the East, but especially in the West. Fortunately, Mr Suthern has made it his lifes work to discover, learn, teach & preserve ancient, exotic, oriental weapons.
JOSHUA HAIGH DEMONSTRATING THE BENCH, MADE BY HIMSELF
Yet another weapon originating from everyday origins, indicating the versatility and imagination of Kung Fu practitioners. Again, Joshua Haigh has made his own bench, suited to his body type for practice. The bench is a very useful weapon for blocking and striking techniques.
CHINESE SWORD CUTTING
Shi Zhan is the ancient art of Chinese sword cutting, dating back to the Qin dynasty. Martial artists of old would test their skill & the sharpness of their blade against straw or grass men, or even captured enemy soldiers or convicted criminals. Today, advanced students test themselves against fruit, plastic bottles, foam tubing & rolled tatami mats.There is nothing quite like cutting through a real object, rather than merely swinging the sword through thin air. The buzz is incredible! The practitioner can choose to cut through single heavy objects to demonstrate power, or perform multiple cuts on lighter targets to show speed & accuracy. Practitioners may use curved or straight swords, single or double handed. Mr Suthern is passionate about preserving the ancient warrior arts & is proud to offer Chinese sword cutting within his comprehensive curriculum.
Jason Lee sword cutting.