Brighton White Crane Martial Arts Club in Grosvenor Street located off Edward Street
(Next door to the Brighton Youth Centre) Kemp Town
Chief Instructor: Mr Russell Suthern
Mobile Number – 07885 963 979
E-mail – russell@whitecranemartialarts.co.uk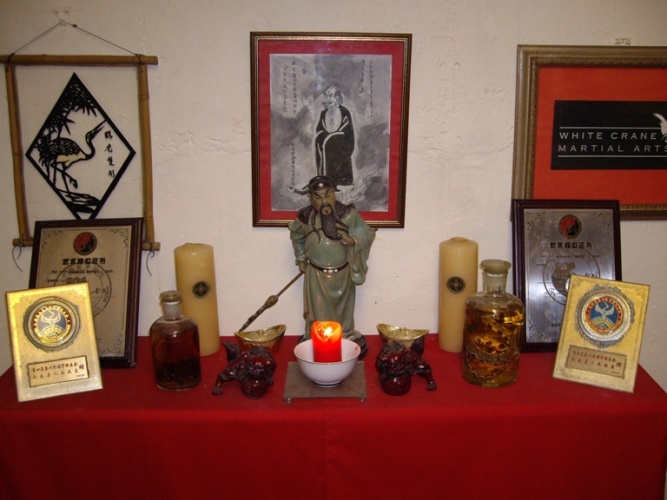 Brighton Club Classes
These classes are held at our fully equipped, full time training hall in Edward St.
We have a large range of equipment available to our students including : kickbags & pads, wooden men, makiwara, stretching machine, sandbags, Lion dance equipment & weapons.
The main hall covers all of our various classes; Kung Fu, Tai Chi, Chinese Kickboxing, Weapons, Iron shirt & Lion Dance. (See styles section for details.)
All our classes are mixed ability & very beginner friendly. Please call or e mail in advance to check the costs and also what clothing to wear.
Martial Arts are a great fun way to challenge yourself so why not come along & give us a try?
Brighton Club Timetable
Mondays
8-9pm Chinese Kick Boxing
9-9:30pm Grappling
Tuesdays
6-7pm Children's Kung Fu
7-8pm Tai Chi
8-9pm Kung Fu
9-9:30pm Supplementary Training
Wednesdays
12-1pm Tai Chi
1-2pm Kung Fu
Thursdays
7-8pm Archery
8-9pm Kung Fu
9-9:30pm Supplementary Training
Saturdays
10-11am Kung Fu (Mixed Adult and Children Class)
11-12pm Weapons (Mixed Adult and Children Class)
Temporary Change to Timetable
No Temporary Changes
Please be aware that White Crane Martial Arts expects all students to respect their Instructors and their fellow students. WCMA reserves the right to terminate any students membership at any stage, although this is always a last resort and not a decision taken lightly. All monies paid to WCMA are non refundable.