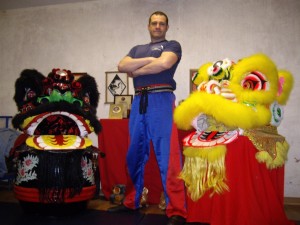 Mr Russell Suthern- Chief Instructor WCMA
Mr Suthern started his martial journey as a teenager when he took up boxing for a couple of years. He enjoyed this immensely, but a move to London in 1986 to begin a college course meant he needed to look around for something different. It was then he discovered White Crane and has not looked back since. Mr Suthern stayed with the same club and Instructor for 20 years (Mr Dennis Ngo- Fujian White Crane) before setting up his own organisation in Brighton, teaching White Crane from his fully equipped full time Studio in Edward Street.
Mr Suthern has been teaching White Crane in Brighton for nearly 25 years, beginning from humble origins teaching small groups in his home to having several locations stretched out along the South Coast.
In his quest for martial knowledge, Mr Suthern has visited China (North and South), Hong Kong, Singapore, Thailand, Malaysia and Mongolia to seek out and train with top Masters in a variety of disciplines.
Mr Suthern has a passion for all forms of Medieval and Ancient Weaponry (both Eastern and Western) and all forms of Martial Arts, but his first love and all consuming passion is for the complex and beautiful style of White Crane Kung Fu.
Mr Suthern taught a Kung Fu class for several years at the Patcham school for special needs children. He currently teaches Tai Chi and relaxation at the Priory clinic in Hove. This means he has many years of practical experience teaching both adults and children with physical and mental problems.
Mr Suthern obtained his SIA certification and spent three years working as a doorman in order to improve his conflict resolution skills in a real world enviroment.
Mr Suthern's journey so far has been exciting and eventful. En route he has achieved several honours:
1)      Recognised and Graded by the Chinese Wushu Association.
2)      Recognised by the Yong Chun White Crane Society.
3)      Ratified by the AMA and WAKO organisations.
4)      Demonstrated at the Fujian White Crane Festival in Fujian Southern China
5)      Demonstrated at the Southern Shaolin Temple.
6)      Performed Lion Dance for the Labour Party Conference.
7)      Strong Association with the Brighton Breast Cancer Support Group.
Russell Suthern is incredibly passionate about teaching traditional Martial Arts. His ambition has been to create an inclusive club, which caters for a wide range of practitioners.
If you want an interesting hobby, providing fitness and self defence, or if you want to take your training all the way to the top, then we are the club for you.
You may contact the Chief Instructor by e mail or phone;
Russell@whitecranemartialarts.co.uk
07885963979